Mauritania as a mining country dates back as to early the 20th century when the multi-national firm, the MIFERMA who assured the exploitation and export of Mauritanian iron ore to Europe, USA and Japan has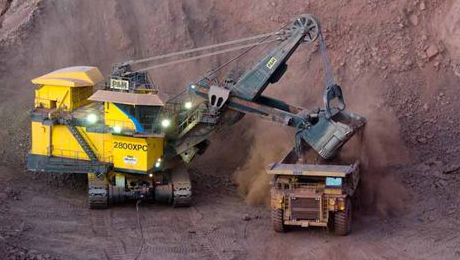 been nationalized in 1974 and renamed since then the Société Nationale Industrielle et Minière (SNIM). The SNIM, which is in charge of crushing and transporting the iron ore on 700km of railway to reach the mineral port of Nouadhibou for exportation. Mauritania veins of iron ore are estimated to about two billion tons in the ridge of Rguibat north of the country were mines had been exploited practically since 1963.The mining sector has been an important contributor to Mauritania's economy for the past 60 years . It accounted for 22,9% of the country GDP IN 2015. The mining sector is one of the largest employers in the country. It is today well documented that the country harbors significant mining potentials with more than 900 mining and mineral occurrences: iron ore, copper, gold, phosphate, quartz, diamond, chromium, manganese, lead, zinc, platinum group elements, rare earths, black sands, salts and peats.
IRON ORE:
For the iron ore, the country is ranked the world's 12th with the National Industrial and Mining Company (SNIM), as the second largest company iron ore producer in Africa, remains the unique iron ore manager in the country. It operates three iron ore mines: The Guelb El Rhein, the Kedia d'Ijill and the M'Haoudat mines (Northern Mauritania). In 2015, the SNIM has implemented its strategy, based on building a new iron ore concentration plants that use low-grade ore. The company plans to increase its iron ore production up to 40 million metrics tons per year by 2025.
Gold and COPPER:
The gold research efforts undertaken by mining companies are spread over four geographic areas and is now produced in Tijirit-Tasiast Zone. Located about 300 km in the North of Nouakchott and 162 km far from Nouadhibou North-Western part of Mauritania. The Tasiast mine and the existing exploitation permit are owned by Tasiast Mauritania Limited S.A. (TMLSA) which is owned by a Canadian mining company, Kinross Gold Corporation Kinross. Mining operations started in 2007. The mine produces around 240,000 ounces a year with a potential of about 25 million tons . The Guelb Moghrein mine is located close to the town of Akjoujt about 250 km north of Nouakchott.The mine produces copper and gold intermediary product, called a concentrate (22.5% copper) which is then sold to copper and gold smelting and refining companies. Suck companies located mainly in China. Production forecasts are for 30,000 to 36,000 tonnes of copper annually up to 2019 and the potential is evaluated to about 20 million tons.
Uranium:
Mauritania has more than 80 uranium mineral occurrences and is current focus of active exploration of uranium by number of private companies in the North and South of Mauritania.
In 2015, Aura Energy, an Australian based mineral company, started the Tiris Uranium Project in Mauritania by drilling 4,250 meters at the Tiris (North) site to explore and update its mineral resources. Resources at Tiris deposit were estimated to be about 66 million tons grading 334 parts per